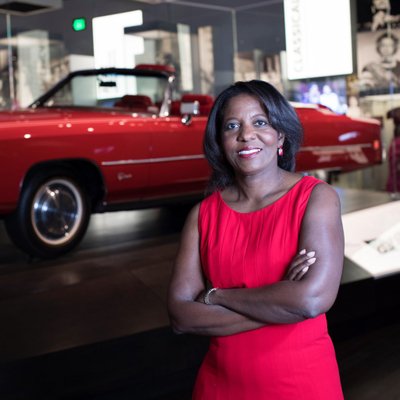 Dwan Reece
Falls Church, VA

Dwan Reece is Curator of Music and Performing Arts at the Smithsonian's National Museum of African American History Culture.. Along with building the museum's collections and developing programs, she is curator of the Museum's inaugural music exhibition, Musical Crossroads. Dwan received her Ph.D. in Performance Studies from New York University.
Abstract:

"Musical Crossroads: Framing the Story of African American Music in a National Museum"
In 2015, the Smithsonian's National Museum of African American History and Culture will open on the National Mall in Washington, DC. One of the museum's permanent exhibits, Musical Crossroads, will reflect African American music making from its earliest manifestations to the present day. Through the exhibition's content, visitors will develop an understanding of African American music that not only recognizes the evolution of African American music as the story of cultural survival, identification, transformation and representation, but also the crucial role that region and place play in determining the aesthetic and cultural impact of African American music production on the domestic and global stage.
This roundtable panel will discuss how the regional variation and the impact of urbanization and migration on the history of African American music will be addressed in the museum's exhibitions. Highlighting the regional components of museum acquisitions ranging from the P-Funk Mothership's connection to Washington, DC aka "Chocolate City," the St. Louis roots of Chuck Berry's via his Cadillac El Dorado and "Maybellene" guitar, and the Detroit-based sacred steel guitar work of Felton Williams, panelists will discuss how these objects provide a useful avenue into larger discussions of place and cultural identities. The roundtable will also serve as an opportunity for panelists and session participants to converse about the various ways that regionalization and urbanization play out in the overall narrative of African American music history and can be explored in a national museum.